Bald Head Island
Just a couple miles off the shore of Southport, NC lies the 12,000-acre natural paradise that is Bald Head Island. The island is one of the many popular tourist destinations on the North Carolina coast but provides a much more unique experience than other beach destinations.
Once you step off of the ferry and onto Bald Head Island, you'll realize how special of a place this island is. There's beautiful scenery in every direction and a laid-back lifestyle that is unrivaled among other NC vacation spots.
Bald Head Island truly is a must-visit destination, especially for those wanting to escape the hustle and bustle of the mainland and relax on quiet and uncrowded beaches.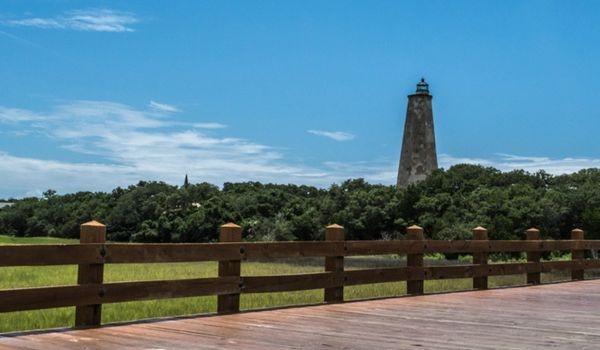 Find your next vacation home:
Bald Head Island is just a short, 20-minute ferry ride from the coast of Southport, NC. It is the southernmost cape island in North Carolina, and is located just east of where the Cape Fear River and Atlantic Ocean meet.
The vast majority of the island is uninhabited and its natural beauty left mostly preserved. The island can only be reached by ferry or by private boat, and once on the island, bikes and golf carts become the primary methods of transportation.

The parts of the island that are inhabited consist of sprawling oceanfront homes, quaint vacation cottages, charming neighborhoods and resorts, historic sites, shops, restaurants, spas, a golf course, and more.

From boutique stores and restaurants to 200 year old lighthouses, Bald Head Island is packed with unique experiences and fun things to do and see. Browse below for some of the many ways you can enjoy your time here on the island.


Intracoastal Rentals offers the most extensive collection of Bald Head Island rentals on the island. We have dozens of vacation homes located throughout BHI that are ready to host your next island getaway. Browse our selection to find your perfect vacation home!