Carolina Beach
Long gone are the days when every beach town had a boardwalk and you could just eat junk food and play games after a long day in the sun.
The truth is, Carolina Beach is one of the few boardwalk beach destinations left on the East Coast. It reminds you what an old-fashioned beach vacation was meant to be, with simple seaside pleasures like arcades, amusement parks, and the perfect ocean view from the top of a Ferris Wheel. Many North Carolinians will argue that when The Drifters were singing about the happy sounds of a carousel and the tastes and sites of the boardwalk down by the sea, they were singing about Carolina Beach, NC!

Find your next vacation home or condo: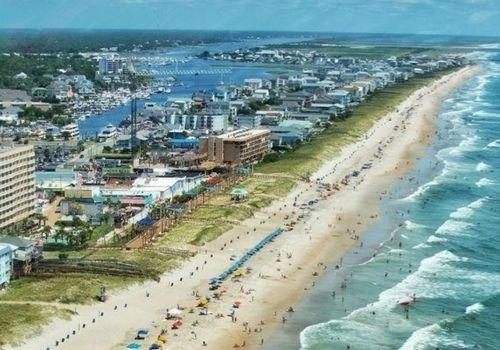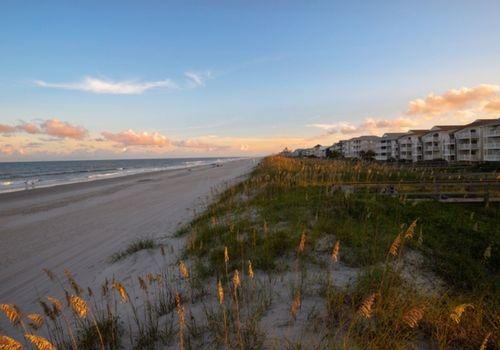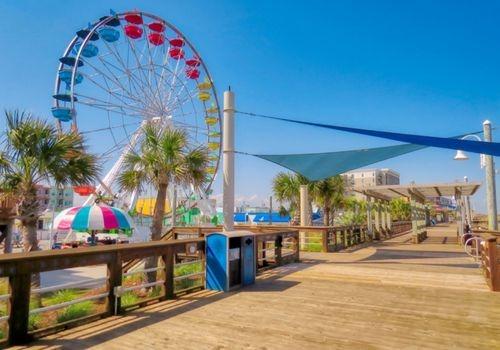 Info ABOUT PLEASURE ISLAND (CAROLINA AND KURE BEACHES)
- Beach Accesses - Oceanfront homes have direct access to the beach. Several public accesses are strategically located throughout the island with adjacent pay parking.
- Dining - Carolina and Kure Beaches have great restaurants on the island - for both land lubbers and seafarer alike. Monkey Junction (20 minutes north on 421) offers additional restaurants. (Don't forget about Carolina Beach's Britt's - arguably the best donuts on the face of the earth.)
- Shopping, General - Locally owned gift stores are primarily located in the central business district of Carolina Beach. Monkey Junction (20 minutes north on 421) has everything from pharmacies to superstores.
- Shopping, Grocery - The island has two grocery stores and several convenience stores. Monkey Junction (20 minutes north on 421) has more and larger grocery stores.
- Towns - Pleasure Island has two municipalities, Carolina Beach and Kure Beach. Fort Fisher State Recreation Area is located at the extreme south end of Pleasure Island.


One of the area's most iconic landmarks and popular tourist spots is the Carolina Beach Boardwalk. The boardwalk is one of the few remaining true beach boardwalks on the east coast. From restaurants and ice cream shops, to rides and arcades, this quarter-mile stretch along the Carolina Beach oceanfront is about as traditional of a beach boardwalk as they come. There's tons to do along the boardwalk, making it somewhere you'll likely want to revisit a few times during your stay.
For the lovers of the great outdoors, Carolina Beach State Park is must-visit territory while you're here. There's miles of hiking trails, plenty of fishing spots, picnic areas, exhibits, and it's even home to unique wildlife, such as the Venus Flytrap. You can also rent kayaks and pontoons from the park to take a cruise down the Cape Fear River if you're wanting to get out on the water.
Other popular things to do include:
- NC Aquarium at Fort Fisher - The Aquarium features a variety of marine-life including alligators, venomous snakes, sharks, stingrays, moray eels, seahorses, sea turtles and colorful reef creatures. The aquarium can give your family an opportunity to not only look at the amazing creatures, but to also interact with live animal presentations, feedings, touch pools and divers in the large ocean tank.
- Fort Fisher State Historic Site & Civil War Museum - This museum will transform you back in time to when the Fort was keeping the Port of Wilmington open to blockade runners which supplied necessary goods to Confederate armies inland.
- Fishing - Pleasure Island is one of the premier bottom, pier and surf fishing sites on the east coast. For deep-sea fishing, the Carolina Beach Yacht Basin is the center of boating activities and boasts one of the largest recreational fishing fleets north of Florida. Charter boats and head boats leave the municipal marina each day.

You can't go wrong visiting Carolina Beach regardless of the time of year. Summer is unsurprisingly the most popular time to visit, but the temperature is moderate enough that you can enjoy the beach and boardwalk almost any time of year. The off season months can be the best time to visit if you're looking for less hustle and bustle and often times even better weather than in the summer.
Vacation rental opportunities abound in Carolina Beach! Our vacation rental homes are available in a wide range of sizes and prices. Whether you're looking for beachfront or waterway views, duplex layouts or condo styles, we have a vacation rental for every preference. Start searching for your perfect beach escape and view our available Carolina Beach vacation rentals!