Kure Beach
Kure (pronounced Cur-ee) Beach, North Carolina is a small beach community of just around 1,800 permanent residents, however, the population rises significantly during the summer months as visitors begin flocking to the vacation rentals in Kure Beach.

This small community is ideally situated at the end of the Pleasure Island peninsula which offers a true "get away" beach vacation experience. Being a favorite nesting-ground of the Loggerhead sea turtle is a testament to the secluded beach experience that Kure Beach provides. The beach is quiet and un-crowded, perfectly suited for sunbathing, strolling, shelling, surfing and fishing. In fact, Kure Beach is known as an angler's Mecca because of the wide-open spaces and ideal fishing conditions.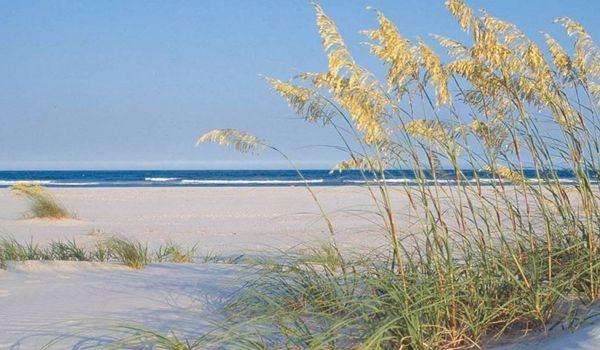 Find your next vacation home or condo: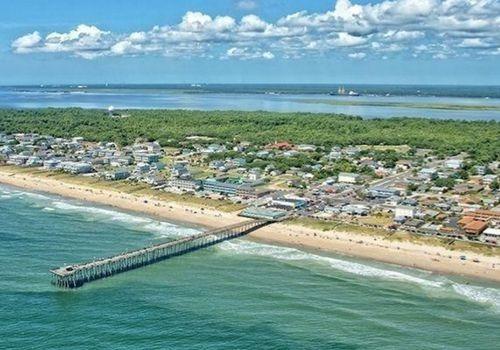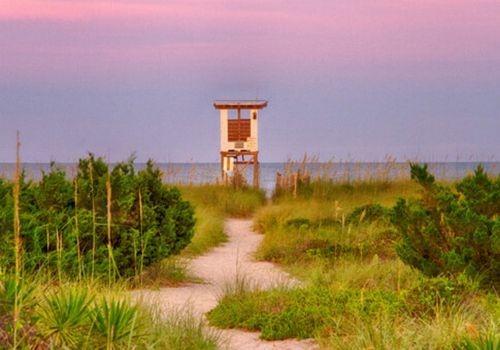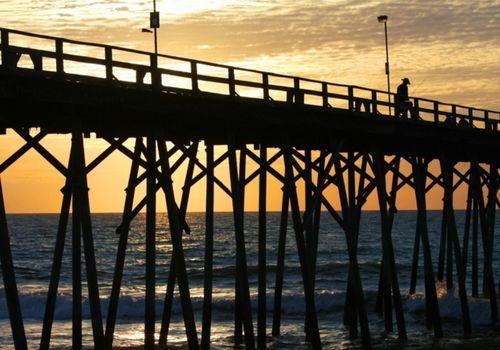 Info ABOUT PLEASURE ISLAND (CAROLINA AND KURE BEACHES)
- Beach Accesses - Ocean front homes have direct access to the beach. Several public accesses are strategically located throughout the island with adjacent pay parking.
- Dining - Carolina and Kure Beaches have great restaurants on the island - for both land lubbers and seafarer alike. Monkey Junction (20 minutes north on 421) offers additional restaurants. (Don't forget about Carolina Beach's Britt's - arguably the best donuts on the face of the earth.)
- Shopping, General - Locally owned gift stores are primarily located in the central business district of Carolina Beach. Monkey Junction (20 minutes north on 421) has everything from pharmacies to superstores.
- Shopping, Grocery - The island has two grocery stores and several convenience stores. Monkey Junction (20 minutes north on 421) has more and larger grocery stores.
- Towns - Pleasure Island has two municipalities Carolina Beach and Kure Beach. Fort Fisher State Recreation Area is located at the extreme south end of Pleasure Island.


Kure Beach is home to the NC Aquarium at Fort Fisher which is one of three state-owned aquariums. It is one of the of the attractions most raved about by the guests who stay in our Kure Beach rentals. The Aquarium features a variety of marine-life including alligators, venomous snakes, sharks, stingrays, moray eels, seahorses, sea turtles and colorful reef creatures. The aquarium can give your family an opportunity to not only look at the amazing creatures, but to also interact with live animal presentations, feedings, touch pools and divers in the large ocean tank.
When you are walking the shores of Kure Beach and Ft. Fisher, it is hard to believe that such a calming place could be the site of one of the Civil Wars most important strategic battles. The Fort Fisher State Historic Site & Civil War museum will transform you back in time to when the Fort was keeping the Port of Wilmington open to blockade runners which supplied necessary goods to Confederate armies inland. This vital supply line was the last remaining for Lee's army so when it fell in an amphibious assault in 1865, it sealed the fate of the Confederacy. You can tour the impressive earthworks and view the many historical artifacts from the War.
Other popular things to do include:
- Carolina Beach State Park- - The State Park has approximately 700 acres with a visitor center, fishing pier, picnic and camping (Area 2 campsites are wheelchair accessible), marina, trails, and water activities.
- Carolina Beach Lake Park - Once touted as the closest freshwater late to salt water, Carolina Beach Lake (11 acres) is a great place for a picnic and the site of Pleasure Island's "Light Up The Lake" celebration during the holiday season.
- Fishing - Pleasure Island is one of the premier bottom, pier and surf fishing sites on the east coast. For deep-sea fishing, the Carolina Beach Yacht Basin is the center of boating activities and boasts one of the largest recreational fishing fleets north of Florida. Charter boats and head boats leave the municipal marina each day.

The most popular time for tourists is during the summer, however, there is plenty to enjoy in Kure Beach year-round, especially if you enjoy beachcombing and walking on the beaches when they're uncrowded. In the off-season there are few people on the beaches and the temperature is still moderate enough that you can stroll along the beach without being too cold.
A Kure Beach vacation is the perfect mix of relaxation and lasting memories. Secure your Kure Beach vacation rental and choose from oceanfront condos, ocean view motels, cottages and beach homes. Intracoastal Rentals offers over a dozen Kure Beach rentals including condo rentals, and oceanfront beach house rentals, and we're happy to help match you with the rental that is just right for your family's needs. Use the link below to browse all of our Kure Beach rentals, and feel free to contact us if you need help or have questions about any of our properties.