Wrightsville Beach
If your idea of a perfect beach vacation is spending a week inside a mammoth high-rise hotel and fighting highway traffic to the nearest all-you-can-eat buffet, then a Wrightsville Beach vacation rental is probably not for you.
People vacation at Wrightsville Beach to escape the ordinary and experience true coastal living in our diverse mix of down-home to down-right luxurious vacation homes. Wrightsville Beach is a unique place where cosmopolitan-style meets coastal village charm. There is no place like it in the Southeast.
Find your next vacation home or condo: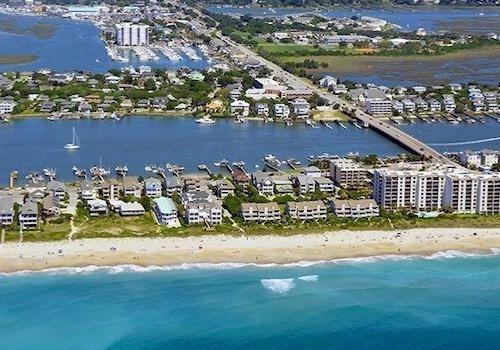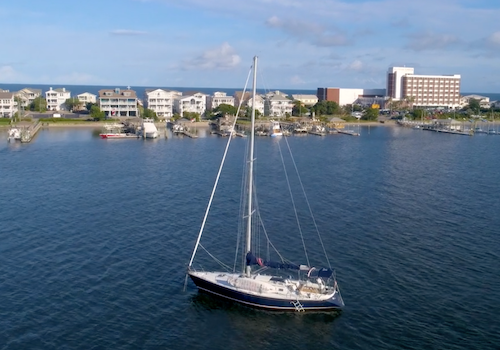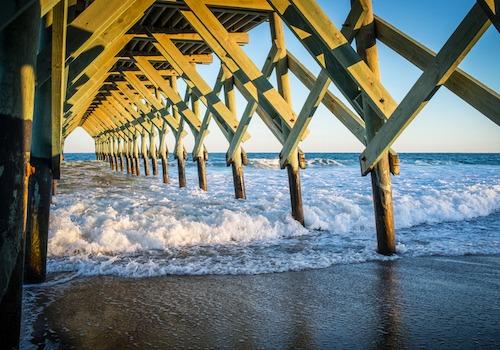 - Beach Accesses: Lumina Avenue runs parallel to the Atlantic Ocean; all other streets are perpendicular to the ocean and serve as public beach accesses. Pay parking is available on these sides streets and several public accesses are strategically located on the north end of the island with adjacent pay parking.
- Dining: Wrightsville Beach and Harbour Island have great restaurants - for both land lubbers and sea farers alike. Lumina Station (5 minutes) and Mayfaire and The Forum (10 minutes) offer additional restaurants. Restaurants on the Intracoastal Waterway allow for boat parking.
- Shopping, General: Locally owned gift stores are primarily located in the central business district of Wrightsville Beach. Lumina Station (5 minutes) and Mayfaire and The Forum (10 minutes) have more specialty stores.
- Shopping, Grocery: The island has one locally-owned grocery store. The Galleria (5 minutes) and Mayfaire (10 minutes) have larger grocery stores.
Towns - Wrightsville Beach has one municipality: Town of Wrightsville Beach.

Shopping, Dining, & Things to Do
On Wrightsville Beach, including the Harbor Island area, you will find many great places to shop and dine. Wrightsville Beach boasts a seemingly endless supply of great restaurants. Many locals in the area argue that Wrightsville Beach has become the culinary center of Eastern North Carolina. Whether you are in the mood for coastal-style comfort-food or craving a fine-dining experience overlooking the Intracoastal Waterway, your appetite is sure to be pleased. When the sun goes down, Wrightsville Beach offers an array of venues to hit the dance floor, listen to live music, drink a local brew or savor your favorite mixed drink.

Also close by are Lumina Station and Mayfaire Town Center, each boasting an abundance of shopping and dining options. Several restaurants on the Intracoastal Waterway accommodate boat access. There is so much to do if you so choose. Or just simply relax and enjoy the laid-back island atmosphere.
There are also plenty of ways to be active. Wrightsville Beach is known for "The Loop", a 2.45 mile path that surrounds public parks, the intracoastal waterway and beautiful scenic marshes. The Loop is enjoyed by locals, visitors and even man's best friend. Wrightsville Beach is also a favorite destination of running clubs and cycling groups. The public park is the heart of the island and features 4 hard surface tennis courts, several sand volleyball courts, children's playground, softball fields, soccer fields, and basketball courts.
Other popular attractions include:
- Airlie Gardens - A quintessential Southern gardens with 10 acres of freshwater lakes and 67 acres of gardens. Features include azaleas, camellias, statuary and the Historic Airlie Oak.
- Wrightsville Beach Museum of History - The Museum is designed to reflect how life was lived in a typical home on the Beach, and throughout the community. The turn of the century Myers Cottage houses was relocated from off the beach to its current location to house the museum.
- Wrightsville Beach Park - provide services and leisure opportunities that will contribute significantly toward the physical, social, and emotional well being of the community. Facilities include tennis courts, playground, and fields.
Summer is the most popular time to visit Wrightsville Beach, however, it is a great vacation spot year-round! If you like the beaches when they're less crowded, then you might actually prefer to visit in the off-season months. The weather can get cool in the winter but rarely does it get too cold to go explore the beaches.
Intracoastal Rentals has more than 100 Wrightsville Beach rentals to choose from! Browse our vast selection of homes and condos to find the rental that's perfect for your trip to Wrightsville. Whether you're looking for an oceanfront rental, a rental with a dock, or a pet-friendly rental, we've got a property to meet your needs.